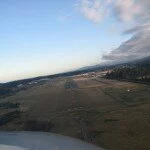 People want to fly for one of three reasons (or a combination):
To become a commercial / professional pilot
To become a recreational pilot
For transportation purposes that are incidental to a business
Some people love aircraft so much, they want to figure out a way to get paid to fly.  So, they work hard and pursue life as a professional pilot.  Whether it's working for an airline, being a crop-duster pilot, flying fighter jets, or taking people on scenic flights, some of us just want to get paid to do what we love to do. 
Other people are just in love with the beauty of flight and the freedom they experience up above the clouds.  Maybe they never got the opportunities to pursue a career in flying, but it's always been one of their dreams.  Others are in love with the technology that makes flight possible, but consider it a hobby and don't want to turn a hobby into a "job".  These are recreational flyers.
There is also a third group of pilots that exhibit a little of both of the above traits.  They are business owners, entrepreneurs, or successful professionals with little patience of ground highway traffic.  They know they're smart enough to operate and airplane and would rather fly to a meeting or conference in a fraction of the time than it would take to drive there.  These smarty pants also know that an expensive hobby, such as flying, can easily be used as a business expense if they use it for business-related purposes. 
In any case, all pilots share a common trait – when we get back on the ground from a flight, it doesn't take long for us to start thinking of the next time we'll get to go up again.
Your PilotTrick of the day is:
If you're thinking of becoming a pilot, it's imperative that you know which of these three categories you fall into.  Knowing this little tidbit could save you thousands of dollars because which flight school and/or flight instructor you choose depends on which of these type of pilots you want to be. 
Now, I want to hear from you awesome flyers and flyer-wana-be's out there!  Please leave a comment below and tell me what type of pilot do YOU want to be?