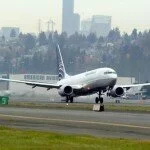 I'm so psyched to tell you that I just flew a gorgeous Boeing 737NG for the first time as a pilot!  It was such an unbelievable experience.  This is the first time I ever flew a jet airplane too and it's so much better than I ever expected.  Wow!
With 26,000 lbs of thrust on each General Electric engine, it was an amazing feeling accelerating down the runway.  I saw the runway centerline stripes speeding under the nose of the airplane and it felt so surreal!  Time suddenly slowed down – you know like when something incredible happens.  I remember thinking "No way, I can't believe I'm doing this!  This can't be happening!"  I felt like laughing out loud, but I didn't (at least not until after takeoff).  The captain's voice suddenly brought me back to reality when he called out  "80 Knots".  I replied, "Checked".  I couldn't believe I was saying that word – coming out of my mouth, because that meant I was the one doing the takeoff.
The rest of the flight seemed like an out-of-body experience.  I could see myself performing all the actions necessary to fly the airplane, especially during approach and landing after the autopilot comes off.  I made all the right callouts, managed the speed, and configured the airplane, but it didn't feel like it was me doing all that – how did I know to do all that stuff at the right time?
I had obtained my type rating a month before and it was such a great experience!   I used to think, wow there's so much stuff to know, how am I going to remember all this!  But, I did remember everything ;-D
This experience alone has made everything so worthwhile.  All that hard work!  All those student loans, holding two-three jobs, volunteering at the Civil Air Patrol to get flight time, flight instructing after my normal job.  It's been a wild ride for sure!
I just wanted to share this story with my readers as an inspiration to work hard and pursue your dreams.  Take whatever passion you have and run with it!
If you have any questions for me, I would LOVE to hear from you.  Email me at [email protected] or leave a comment below!