I Just Want To Learn To Fly For Fun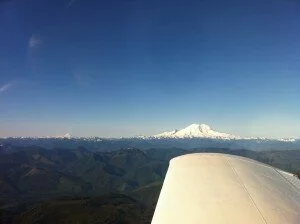 Flying as a hobby is extremely fun and rewarding!  Imagine taking your sweetheart on a scenic flight around the area.  There is nothing but clear blue sky and you can see for a hundred miles.  You land at a local airport, stop in at the FBO, get a courtesy car and go exploring.  Most FBOs have a courtesy car for pilots that use their services.  And you can start doing all this in as little as 3 months!
When you're done, you return the car and hop back in the plane for a beautiful flight back.  If you time everything right, you can see the sunset from the air right before you arrive at your home airport.
Learning to fly and airplane (or other aircraft) should be fun, yet challenging and rewarding at the same time.
If you're interested in step-by-step guidance from zero hours to Private Pilot and beyond, check out my eBook: Private Pilot in Three Months.  Most people who have no clear guidance take a year or even longer…and those are only the 20% that finish their flight training (80% of student pilots drop out).  And don't make the mistake of thinking, "Oh, my instructor or flight school will give me the guidance I need." – WRONG!  Remember, the longer it takes you, the more money they make and the more flight hours the flight instructor gets to log in his/her logbook.  YOU are the only one who has your own best interests in mind.
If you're a DIY type of person, though, keep reading.  Either way, it's not difficult to learn to fly.  There is just so much information, most people easily get overwhelmed.  But, don't worry, you've come to the right place – this is where the process of learning to fly is demystified!
Here are the first 3 steps you need to take:
Step 1: Do a little research…don't worry, I'll help you
Step 2: Get a medical certificate
Step 3: Choose a Flight School and Flight Instructor
I've also put together a FREE Prep Kit for you.  It includes all of this for FREE:

Cost of Flight Training Worksheet:
FAA's Student Pilot Guide
Learn To Fly, How to get your Pilot's License with Flying Colors eBook
FAA's Pilot's Handbook of Aeronautical Knowledge
FAA's Airplane Flying Handbook
Matt Waugh's Private Pilot Flight Training Syllabus