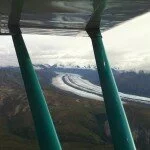 Hello fellow Flyers!
I just got back from a flight with my instrument student and I wanted to share with you a topic that came up right before the flight.  The weather was kind of dicey with broken clouds and the surface temperature 10deg C above freezing.  Rob (my student) debated whether to cancel the flight or take a risk in spending money on a flight in which we migh have to turn right back if we started to pick up any ice. 
We ended up going for about an hour long flight, popping in and out of clouds.  He learned some good lessons , but it started me thinking:
With the soaring costs of flying today, how can you plan your budget if you decide you want to become a pilot?
The short answer is: It depends.
Do you just want to get your private pilot certificate OR do you want to eventually have a career as a pilot?
If you want to become a pilot for recreational purposes, you can get your pilot's license for anywhere from $4,000 – $10,000.  This figure varies, but it mostly depends on you.  Some people take 2-3 months, others take 2-3 years.  Obviously the longer you take, the more it's going to cost.
If you want a career as a pilot, however, you're going to need to spend a tad more than that.  I'm talking between $40,000 – $200,000.  That's almost a quarter of a million dollars to become a professional pilot!
"Why such a huge range", you ask? 
Three reasons:
1. Initial Cost of Flight training (~ $30K – $80K):  The  very, very minimum you need in order to be allowed to get paid to fly is about 250hrs of flight time.  Even if you use an average cost of $120/hr, that amounts to $30,000!  But that's just the tip of the iceberg, because with only 250 hours, no one is going to hire you as a pilot.  Would you hire a pilot with only 250 hours of flight time to fly your loved ones around?  I didn't think so.
2. Need of a College Degree (~$20K – $80K):  In today's competative industries, no one hires without a college degree.  I know of great pilot with thousands of hours of flight time, including time in Boeing 737′s, that is working as a non-pilot because no one will hire him without a college degree.
3. Time-building Phase of a pilot's career ($0 – $50K): No one will hire you with only 250hrs of flight time, which is what you end up with after getting all your certificates that allow you to work as a pilot.  To get those coveted pilot jobs (airline pilot, corporate pilot, cargo pilot), you will need THOUSANDS of hours of flight time.  While you don't have to pay for these hours if you work at entry-level pilot jobs, you will be making very close to minimum wage while you build up your flight time.  These 2-10 years can cost you hundreds of thousands of dollars since you will probably be taking out debt (credit cards, loans, etc.) just to make ends meet.  Additionally, unless you paid for your flight training out of pocket, you will be making payments on your student loans with thousands of dollars in interest.
So, really, the only way it makes sense to pursue a pilot career is if you don't give up until you are making enough money to have your flight training be worth the cost.  This requires a lot of determination, passion, discipline, and a little bit of luck!
For more information on how to become a pilot, check back often for weekly posts and don't forget to read some of my articles to the right.
Tell me what you think by leaving a comment below!
I want to know what type of pilot YOU want to be?  What are YOUR plans for financing your flight training?